July 28, 2016 |
Paige Belanger
Making the Season Even Better With Growlers from Seal Beach Winery
It's Southern California, and we are in the thick of summer. That means it's time for outdoor picnics, afternoons on the sun-sparkling beach, restful days along the side of the pool, and concerts in the park. Everyone who lives in this vibrant area knows about the activities that these sunny skies open up for us—and we certainly take advantage of these opportunities as they come. But does anyone wish that their wine was portable enough to keep up with this wide range of activities?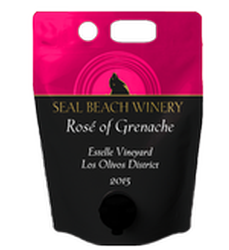 Anybody who has tried to open a bottle of wine at the beach will attest to how difficult it is to yank a cork from a bottle while trying to balance it on sand, never mind protecting their precious wine while the wind violently blows particles into the bottle. A bigger issue is conspicuously twisting a corkscrew into a full bottle in an open area, feeling uncomfortable under the judging glares of the casual beer can drinkers around them.
So what is a wino supposed to do when summer rolls around in Southern California? At Seal Beach Winery, we think we have a solution that makes it a little bit easier to enjoy great wines—our growler program. With six unique wine options to fill up with and take home, along with the ease and versatility of the growler and growler bags themselves, it's a simple and elegant way to enjoy a glass of wine in the summer heat.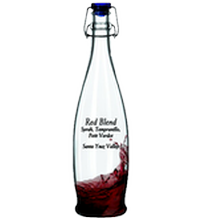 Beginning your foray into our growler program is simple: just stop by the winery and pick up your choice of a 1 liter or 1.9 liter glass growler for $9, which are refillable at any time. Or, if you're looking for a one-time use item to bring along to a BBQ or event, you can get a 1.5 liter growler bag, which retains the freshness of the wine inside for months, even after opening. These bags are filled to the brim and equipped with a spout for immediate and easy pouring. All of these options can be filled with any of our six growler wines.
What are those wines? While they are in constant rotation, our current lineup is:
Rosé of Grenache- A beautifully floral blush with summertime flavors of watermelon and strawberry. This is our only rosé selection for our growlers, and is ideal for enjoying on a sunny, hot day.
Pinot Noir- From the beachside Derbyshire Vineyard in San Simeon, these grapes grow within a stone's throw from the Pacific Ocean. Its intense, dark cherry flavors can be combined with a number of activities and foods.
Red Blend- This blend of Syrah, Tempranillo, and Petit Verdot is a full-bodied wine with a hint of dark fruits, blackberries, dried cherries, and spice. It's our suggestion for a summer BBQ.
Merlot- Our deep and sophisticated Merlot is a little dark for summer heat, but perfect for those nights by the pool or on the patio.
Cabernet Sauvignon- This rich Cabernet packs huge amounts of fruit and vanilla with a long finish. It's perfect for summer dinner on the deck or staying at home with a home-cooked meal.
Barbera- This brand new edition to our growler lineup is young, but incredibly drinkable and bold. Its bright cherry flavors really complement a brisk summer night.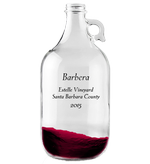 By getting our growler, you'll have access to any of these options, available to fill at any time we're open. There's also the added benefit or alleviating the Earth of some of the waste that goes into the typical glass wine bottle, but we know that's not the real reason you're getting one of our growlers the next time you stop by and visit us.