June 13, 2016 | Newsletter | Michael Dawson
SB Winery Newsletter Volume 1

From Grapes to Glass, providing insight into enology, viticulture & taste that is Your Winery.
The Season
The flowers have set and budbreak is upon us. We now have a little tiny grapes making up little clusters.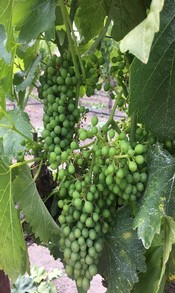 These green clusters will continue to grow, accumulate sugar and respire acid until Veraison; when they change color to white or Red. This is usually in mid-July.
Santa Ynez AVA
The 2015 vintage was most representative of the California drought. The vines were stressed from a very early time period. The lack of water starved the vines and reduced yield. To compound this problem, an early Spring wind blew at the time of flowering.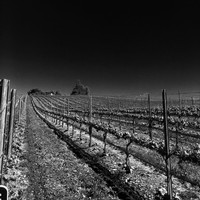 Flowers are very delicate and wind can blow the flowers off the vine. The flowers after pollination are what produces grape clusters. So this wind essentially thinned or reduce the clusters, which meant less grapes per vine. This reduced the overall yield.
In this Terroir, the stressed vines tend to produce small berries, less grapes per cluster and less clusters per vine.
On the bright side, this has produced fantastic wine. Dark, rich and concentrated Pinot Noir and Cabernet highlight an excellent vintage. Into 2015, we also added Petite Verdot, Merlot and we are doing our second year of Tempranillo. The Syrah on the hilltop Vineyard of Harrison-Clarke again produced amazingly rich wines with layers of depth.
New Wines and Bottling Update
Our newest addition to the Seal Beach Winery portfolio is the Natalie Grace 2012 Grenache from Alisos Vineyard.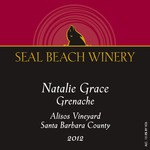 We have been working in this Vineyard since 2008. Later this year we will release the 2012 Syrah from Alisos Vineyard. We also have a new Viognier from Brickbarn vineyard in Santa Ynez Valley AVA. In August we will be bottling 2015 Chardonnay and the 2014 Cabernet Sauvignon Clone 337 Estelle Vineyard Los Olivos District AVA. On June 4th, we had our first Winemaker's Dinner at Delius Restaurant in Long Beach. Everyone had a great time with wonderful Wine and Food pairings. That was the night we first offered our latest Futures purchase.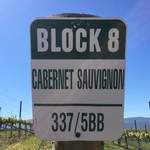 Now for a limited time, the 2014 Cabernet Clone 337 Estelle Vineyard Los Olivos District AVA is for sale in barrel. Each case of 12 bottles is offered for $300, well below the retail price of $480 and the Wine Club discounted price of $324. But this deal will be done when the wine is moved from barrel to bottle in August 2016; so if you are interested act now.
Much variety will be found in our Reds from 2014: Cabernet, Pinot Noir, Tempranillo, Zinfandel and Syrah. Look for these wines to release throughout 2017.
Wine Growlers
As Summer nears, we are about to have our thousandth fill for each of the 1.0L & 1.9L growlers. This is an extremely popular program and if you are a Wine Club member and not yet a Growler member I encourage you to look into this further. We just added a 1.5 L disposable growler this year.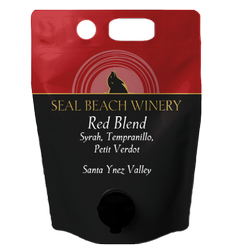 It has a very low environmental profile made from recycled materials and completely is recyclable itself. It has an airtight spout dispensing system, that will keep your wine fresh as long as you drink it. Look forward to many new growler additions in the second half of 2015: Sangiovese, Cabernet Franc, Petite Syrah, Rosé of Grenache, Barbera, a Rhône blend of Grenache & Syrah, and many others. My plan is to have six different growler wines to choose from at all times.
New changes?
Seal Beach Winery🍷 has recently redone their entire Internet site. Our website is now mobile enabled and we have links to all of our social platforms. This ease-of-use and modern update makes the website beautiful and very functional. In addition, we have a new point-of-sale software that will help serve you better with direct table-side service.
Hope to see you soon,
Cheers!
Michael