October 27, 2016 | Holidays | Paige Belanger
It's Halloween and We're Here For the Boos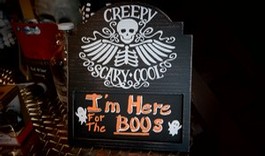 Everyone knows that Halloween is the best holiday, right? If you've been to the tasting room within the last month or so, you've surely noticed that rapid accumulation of Halloween decorations and paraphernalia. There's a skeleton that lords over our wine display, witches and mummies that adorn our bottles, and a telephone at the corner of the bar that rings shrilly and belts out ghostly taunts. With all these delightfully haunting decorations about, we can only assume that the winery is visited by the supernatural when the doors are locked and our club members are tucked away at home. And if they do, they must surely be sipping on some of our wines.
If I had to guess the palates of the undead, I would say that ghosts and spirits are the easiest to determine. The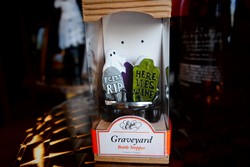 ethereal remnants of winos would certainly go for our Roussanne. While our Roussanne is a white wine, it lacks the typical crisp that finishes off most other whites. The murky edges that remain on your palate after a sip are evocative of ghostly forms that trail off and wisp by. Moreover, the full-bodied characteristics of this particular wine appeal to ghosts, who undoubtedly would trade their intangible forms for something more supple and round.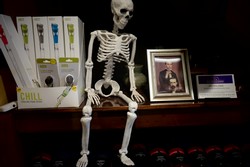 Skeletons would for sure take a different approach to their wine drinking, looking for something "bone-dry." I envision them nursing a glass of Syrah while clattering their bones in rhythmic percussion against the bar. The high tannins in this wine certainly couldn't make their mouth any more dry.
The vampires that visit the tasting room would surely feast upon a tall glass of Zinfandel, a wine filled with not only popping fruit flavors but also hints of cedar, which surely makes them feel at home, nuzzled tightly into their coffins. The richness of this wine, while indubitably not a perfect match, would act like a substitute for human blood.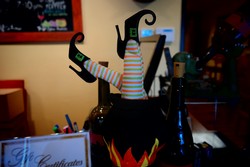 A coven of witches would definitely lounge in the back room of the winery, sharing a growler of Rose of Grenache. Not only is this particular wine served in a tall, potion-like bottle, but its notes of summertime strawberry and watermelon would also serve as a vibrant contrast to the typical witches' brews. I would imagine that newt's eyes and nightshade wouldn't make for a very delectable wine.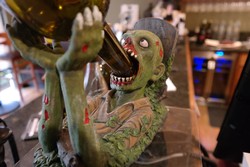 And finally, zombies would ramble into the tasting room in an awkward horde, lunging for growler bags of Barbera to sink their teeth into and chug down. I assume that the culinary world doesn't call brains "sweetbreads" for no reason at all. Since our Barbera is filled with the most residual sugar of all of our wines, I would imagine that zombies would have a fondness for its taste.
So then, in the spirit of Halloween, stop by the winery and have a glass of wine among the company of our undead friends. You can even bring some home with you, and imagine them enjoying the wines in your house, hiding behind closed closet doors or crawling under your bed.