September 9, 2016 | Food, Cheese & Wine, Growler | Paige Belanger
Call A Cab, Franc-ly This One's a Doozy
Fall ushers in change here in Orange County, indicating that the oppressive rays of the summer sun will shift into, well, slightly less oppressive rays of summer sun. During this season, we trade out iced coffee with pumpkin lattes, tank tops for sweaters, and our ever-running ACs for open windows and whirring fans. While the fall season signifies transitions for everyone, it does so doubly for us at Seal Beach Winery. This fall, we'll be welcoming the addition of several new wines--both by the bottle and as part of our growler program--as well as a long list of new events for our loyal members and new visitors alike to enjoy.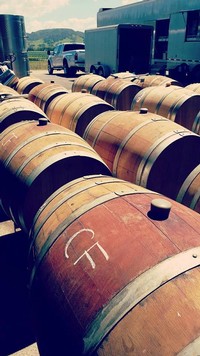 If fall is the season of change here at Seal Beach Winery, then it's certainly kicked off by our Cabernet Franc Release Party. Our new Cab Franc is a beautiful, dark wine with notes of fresh blackberry fruit and a lean, balanced finish featuring a small amount of spice. We've aged it in neutral French oak to truly allow the subtle and silky aspects of this gorgeous wine to shine.
As enticing as that description is on its own, a release party wouldn't be a celebration without food specifically crafted to best exemplify the flavors and aromas of our newest wine. On the menu is a copious amount of cheese from Cheese Addiction, and housemade hors d'oeuvres uniquely formulated to pair with the Cab Franc. These fancy finger foods and rich array of cheeses will not only complement the freshly tapped wine, but will also accompany the ambience of music provided by jazz pianist Reggy Woods.
Moreover, on the day of our release party, we'll be offering an exlusive promotion on growler fills of the Cab Franc (after all, it's the star of the show). On the 17th, if you fill up one growler, you'll be able to fill a second for half off the regular price.
Tickets for this awesome event will only be $5, but they'll run out quickly! If you'd like to take part, you can reserve your spot online or come by the tasting room and get your ticket. Either way, you'll be able to be a part of our first event to kick off this incredible fall season here at Seal Beach Winery.