​Estelle Vineyard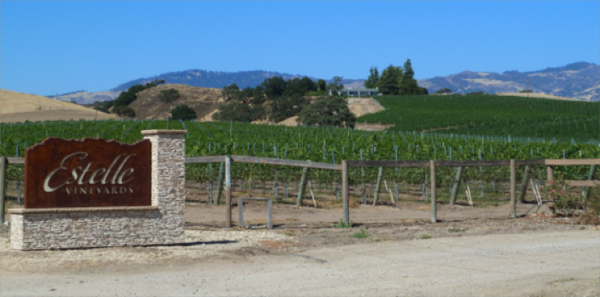 Appellation
Los Olivos District
Location
Estelle is the most Northeast of the vineyards that make up the Los Olivos District. It sits in its own corner abutting the Happy Canyon AVA.
Grape Varieties
Albariño, Barbera, Cabernet Sauvignon, Grenache, Grenache Blanc, Grenache Noir, Loureiro, Merlot, Mouvedre, Nebbiolo, Sangiovese, Syrah, Tempranillo, Verdehlo and Viognier.
Soil
Well-drained fine sandy loam that have a clay subsoil. Fairly broad alluvial bench underlain by terrace deposits of Orcutt sand.
Climate
Mediterranean with cool wet winters and warm dry summers. The juxtaposition to the Pacific Ocean provides cooling coastal winds and morning fog. Los Olivos is warmer than its neighbor Ballard Canyon but more temperate that its eastern Happy Canyon.
Topography
The front vineyard is relatively flat with a south-facing alluvial plain. The back (Block 8) has a moderately sloping terrain.
Enology
Seal Beach Winery has been working with Estelle Vineyard since 2009. The first vintage was a blend of several blocks. Presently we are working with Cabernet Sauvignon in Blocks 8 (Clone 337), Block13 (Clone 341), Block 14 (Clone 101) and Block 16 (Clone 338).
In 2016, we added Merlot Clone 181 in Block 12 and Sangiovese Clone 3 in Block 2A.
The vineyard is meticulously cared for by John and Ivan Belfy. John planted this and many of the vineyards within the Santa Ynez Valley. The perfect marrying of Scion Clone, Rootstock Clone (second number after the dash—110R), soil and climate is an art form that is mystifyingly difficult and defined by an infinite number of variables. The vineyards are immaculately farmed with old school trellising and overcrops but app loaded continuous satellite monitoring. At harvest, the grapes are always beautiful and hardly require any sorting whatsoever.
It is viticulture as described above that makes the winemaking so easy. Just don't screw it up! Is the definition of Estelle Cabernet. Crush and De-stem, into the fermenters, inoculate, press and age in barrels. It is that simple.
Merlot is blended into the Cabernet Clone blend that we make. It is planned to have its own varietal bottling as well. The Sangiovese has been offered as a Growler wine but in the future we will be bottling this wine.
The overall intensity, varietal expression and vilified complexity set the character of Estelle Wines. Having a leaner fruit style than neighboring Happy Canyon but an uniform soil type allows great balance and long term aging.
Future
SBW has long term contracts with Estelle Vineyard and a commitment to the Cabernet Project. Estelle has been with us from the beginning and will be there as we evolve into future. Expect many new blends for the Growlers and Bottled Varietals with Estelle Grapes defining the high quality that we strive to achieve in every Vintage.