Stilton and Sauteed Mushroom Burger with Truffle Garlic Fries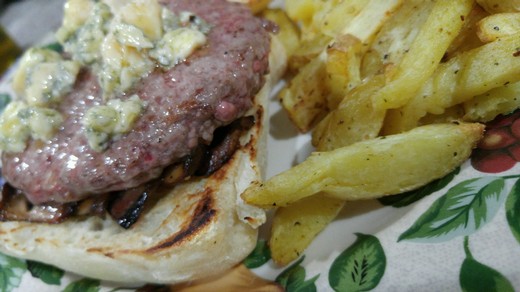 Recipe Date:
September 28, 2016
Measurements:
Imperial (US)
Bleu cheese can be difficult to pair, as its saltiness can increase the flavors or tannin and alcohol in wine. However, the savory and earthy characteristics of the mushrooms, as well as the juiciness of the meat, can offset the strong and salty properties of the bleu cheese and make this burger a well-rounded dish to pair with red wine. As the cheese can make wine more bitter, we recommend one of our fruitier, sweeter reds, such as our Barbera. However, our two Cabernet Sauvignons could also work wonders with this dish.
Ingredients
2 Hamburger Patties
10 Button Mushrooms, thinly sliced
1/4 lb Stilton Cheese
2 tbsps Butter
2 Buns of choice (I used Ciabatta rolls)
3 Idaho potatoes, sliced into fries
1 tbsp White Truffle-Infused Olive Oil
1 tbsp Garlic-Infused Olive Oil
1 tsp Lemon Zest
Salt and Pepper, to taste
Directions
For French Fries
Preheat oven to 350 degrees.
Toss raw potatoes with the garlic and truffle oils, lemon zest, and salt and pepper.
Cook on a baking sheeet until ligthtly crispy, about 30 minutes.
For Burgers
Rub burger patties with salt and pepper. Leave uncovered as they come to room temperature.
In a skillet, melt the butter, then add the mushrooms. Sautee until soft.
In a separate skillet, toast the ciabatta buns face down until lightly browned.
Transfer cooked mushrooms to the buns, then begin to cook the burgers in the pan, using the extra butter for added flavor. Cook to slightly under desired doneness, then add crumbled Stilton to the top. Reduce heat to low, then cover with a lid for 1-2 minutes, or until cheese begins to melt.
Add to the buns, get your fries out of the oven, and enjoy!