Roasted Red Pepper and Artichoke Tapenade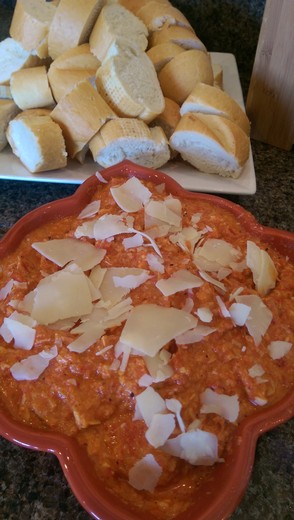 Recipe Date:
September 22, 2016
Measurements:
Imperial (US)
This dip was featured at our Cab Franc Release Party. It pairs the best with this wine, but can also be served alongside many of our other reds. It's a very versatile and flavorful component to any party.
Ingredients
2 Cans of Artichoke Hearts (approx. 7 oz each)
1 Jar of Roasted Red Peppers (approx 16 oz)
4 Cloves of garlic
3 tbsps Olive Oil
1 Lemon's worth of juice
1/2 cup Parmesan Cheese, grated
Salt and Pepper, to taste
Directions
Combine all ingredients in a blender. Blend until the mixture is a smooth consistency.
Transfer to bowl and garnish with fresh parmesan.
Serve with bread, pita, vegetables, or anything else you like to use for dipping.