Roasted Butternut Squash Soup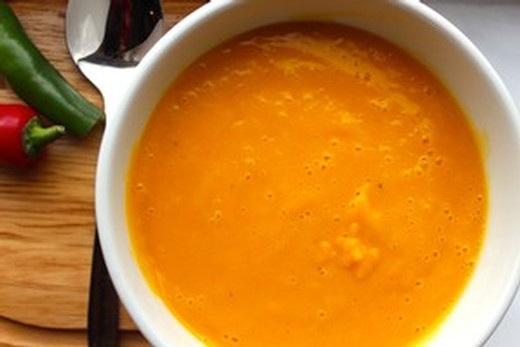 Recipe Date:
September 6, 2016
Measurements:
Imperial (US)
This soup is thick, rich, and full of bold flavors and spices. It matches best with a full-bodied, aromatic wine that is both complimented and heightened by spice. Our 2013 Old Vine Chardonnay, with its sharpness and slight oak, fits this bill nicely. It is intense enough in flavor to hold its own against the boldness of the soup, while still maintaining the balance of sweetness in the soup.
Ingredients
1 Butternut Squash
2 Large Carrots
3 Stalks of Celery
1 Large White Onion
1 Apple (Honeycrisp is best)
4 Cloves of Garlic
6 Sage Leaves
6 Sprigs of Thyme
1 Sprig of Rosemary
1/4 tsp Cayenne Pepper
1/2 tsp Ground Cloves
2 tbsps Olive Oil
3 1/2 cups Vegetable Stock
1/2 cup Heavy Cream
Salt and Pepper, to taste
Directions
Preheat oven to 350 F.

Cut up all the vegetables and the apple into approximately 1 inch chunks. Make sure the butternut squash is peeled and pitted. Put them in a large roasting pan.

Peel the garlic and add the whole cloves to the pan.

Add the salt, pepper, and herbs to the pan. Toss in olive oil to evenly coat the vegetables.
Roast in the oven for 1 hour.

Once the vegetables are roasted, put in a blender or food processor with one cup of vegetable oil and puree.

Put puree in a large saucepan, stir in the remainder of the stock and heavy cream, and simmer for 10-15 minutes. Serve hot.