New England Goulash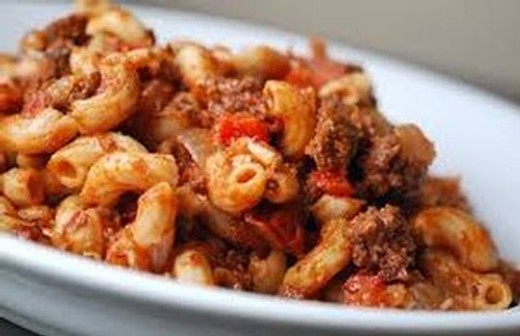 Recipe Date:
September 6, 2016
Measurements:
Imperial (US)
This goof of Italian food may look simple, but it can be paired with many wines that typically share the spotlight with Italian cuisine. An easy-going red wine really brings together the flavor of the beef and the tanginess of the tomatoes. The best bet here would be our new Barbera wine, or even the Red Blend.
Ingredients
1 Box of Elbow Macaroni
1 lb Ground Beef
1 Can of Fire-Roasted, Diced Tomatoes (can be substituted for an equal amount of diced fresh tomatoes)
1 32oz Box of Beef Stock (can be substituted for an equal amount of vegetable stock or water)
1 Large Yellow Onion, chopped
4 tbsps Oregano, chopped
4 tbsps Basil, chopped
1 tbsp Crushed Red Pepper Flakes
3 Cloves of Garlic, minced
2 Bay Leaves
1 tbsp Soy Sauce
Salt and Pepper, to taste
Directions
In a large skillet, brown the ground beef. Add salt, pepper, and half the oregano while cooking. Once lightly browned, strain and return to pan.

Add in garlic and chopped onions. Cook on low until onions are translucent, stirring frequently.

Add the can of tomatoes, stirring until they evenly coat the beef. Stir in the basil, oregano, red pepper flakes, and soy sauce. Let simmer on low for 15 minutes.

Add in the beef stock and simmer until the mixture is hot. Then, add in the box of noodles. Cover and let simmer on medium for 20 minutes or until the noodles are cooked.

Add salt and pepper to taste. Serve and top with parmesan cheese.