Korean BBQ Steak with Sauteed Sesame Cabbage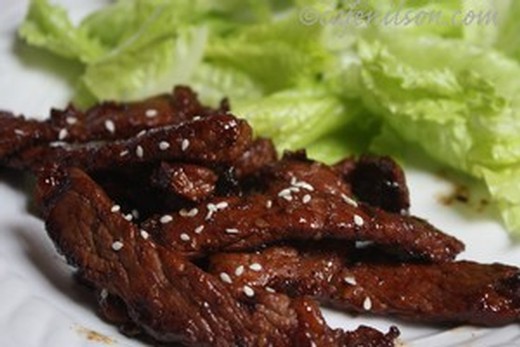 Recipe Date:
September 6, 2016
Measurements:
Imperial (US)
As evidenced by the marinade for this recipe, Korean BBQ typically has a wide variety of flavors that makes it difficult to pair with the perfect wine. However, the spicy, sweet, and salty elements can be complemented by a variety of brighter wines with smooth finishes. Our dry rosés can cut through the umami of the dish and accentuate its sweetness. Moreover, our Derbyshire Pinot Noir would bring a fruit and smoke element to the dish that wouldn't contradict, but rather contribute to, the flavors of the BBQ dish.
Ingredients
1 lb Stir-Fry Cut Steak
1/2 Head of Green Cabbage
1/2 Large White Onion, chopped
2 tbsps Toasted Sesame Seeds
2 tbsps Hoisin Sauce
1 tbsp Soy Sauce
1 tbsp Rice Vinegar
4 tbsps Sesame Oil
2 tbsps Chili Oil
1 tsp Minced Ginger
1 tsp Crushed Red Pepper Flakes
1 tbsp Chopped Green Onions
Directions
Mix the hoisin sauce, soy sauce, rice vinegar, minced ginger, red pepper flakes, and half the sesame seeds together in a large container. Add in raw beef. Cover and let marinate in the refrigerator for at least one hour.

Add half the sesame and chili oils to a large skillet. When heated and rippling, add in the white onion and cook until soft.

Add in meat to the onions. Cook on medium heat, stirring frequently to prevent the onions from burning. Cook to the desired temperature. We recommend medium rare.

In a separate skillet or wok, heat the remaining sesame and chili oil. Add in the cabbage and stir until it is evenly coated with oil. Stir frequently until the cabbage becomes soft.

Plate the beef and the cabbage next to each other. Sprinkle the beef with chopped green onions and the cabbage with sesame seeds. Serve with steamed white rice, if desired, or on its own.