Goat Cheese, Pistachio, and Date Truffles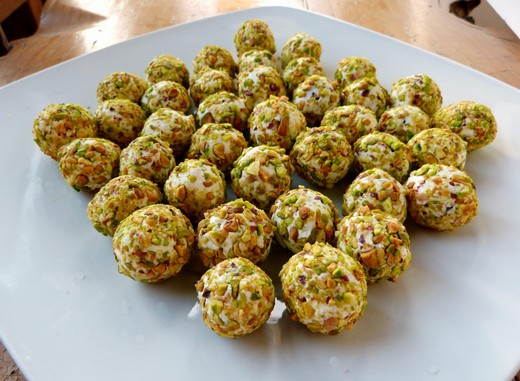 Recipe Date:
August 24, 2016
Measurements:
Imperial (US)
These truffles are designed to match most wines you could throw at them. That being said, the creaminess of the goat cheese is best cut by a dryer white wine, such as our Pinot Grigio or Chardonnays. However, too much oak flavor will devalue the nuttiness of the pistachio. Lighter-bodied, low-tannin reds would also work very well, so our Pinot Noirs would also compliment these truffles nicely.
Ingredients
20 Red Seedless Grapes
5 ozs Soft Goat Cheese
1/2 cup Pistachios, finely chopped
Directions
Let goat cheese sit in a medium-sized bowl until soft and malleable, about 10-15 minutes.
Wash grapes , making sure they are dry before preparing the truffles. Put in a separate bowl. Put the pistachios in a third bowl.
Grab a pinch of goat cheese, about the size of the grape, and roll it around the grape until coated evenly. Then, dust in the pistachios. Put on a flat surface to set.
When all wrapped, let chill until ready to serve.