French Onion Soup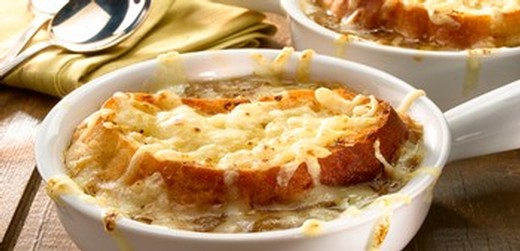 Recipe Date:
September 6, 2016
Measurements:
Imperial (US)
French Onion Soup is traditionally served with dry white wine, even the same wine that is used to cook it. Dryer, more acidic wines, can cut through the sweetness of the caramelized onions and the nuttiness of the broiled cheese to round out the flavors of the soup and really let the meal shine. Our Pinot Grigio really highlights this soup. However, the body and notes of honey and fruit in our Roussanne holds its own against the rich flavors of French Onion Soup, and is not so tart that it makes the soup taste overwhelmingly sweet. As a result, this wine is a great pair as well.
Ingredients
6 Large Yellow Onions, thinly sliced
6 cups Beef Stock
4 tbsps Butter
4 Cloves of Garlic, minced
4 tbsps White Wine
1 tsp Worcestershire Sauce
2 Bay Leaves
3 Sprigs of Thyme
1 Baguette, sliced
3 cups Grated Cheese (Mozzarella, Gruyere, or Parmesan)
Salt and Pepper, to taste
Directions
In a large stock pot, melt all the butter. Then add the onions and saute until caramelized. This takes about 30-40 minutes, and you'll need to stir them every few minutes so they don't burn. We recommend sipping on some of the wine you'll be using while you wait.

When onions are caramelized, add the garlic and stir for approximately one minute. Then add flour and stir for another minute. Immediately after, pour in the white wine to deglaze the pan, and make sure to scrape all the onions from the bottom of the pot.

Add the stock, Worcestshire sauce, bay leaves, and thyme. Bring to a quick simmer, then reduce heat and cover, letting the flavors meld for another 15-20 minutes.

Remove the bay leaves and thyme, then salt and pepper to taste.

Switch the oven to broiler. Lay out crocks on a thick baking sheet, then fill them each with the soup. Then top with a baguette and cheese. Broil for 2-5 minutes, or until the cheese is melted and bubbly. Serve immediately.