Couscous and Spinach Chicken Soup with Rosemary-Chevre Ciabatta Toast Points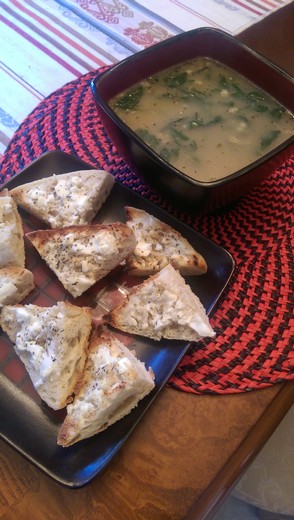 Recipe Date:
September 28, 2016
Measurements:
Imperial (US)
This soup is very vibrant and herbaceous with the undertone of a basic chicken noodle soup. One of the best wines to pair with fresh herbs and light poultry flavors is Rousanne, and ours is no exception. Eat this soup alongside a glass of our full-bodied, off-sweet Rousanne to really allow the herbs and spices to flourish.
Ingredients
3 Chicken Thighs, baked. I used pre-cooked from the grocery store.
1 Package of Israeli Couscous, prepared as directed
3 cups Spinach Leaves
2 Boxes of Chicken Broth
1 tbsp Crushed Rosemary
1 tbsp Dried Thyme
1 tbsp Dried Basil
1/4 tsp Smoked Paprika
1/4 tsp Lemon Zest
Salt and Pepper, to taste
1 Ciabatta Roll, cut into points
1/4 lb Chevre
tsp Crushed Rosemary
Directions
In a large pot, empty one box of chicken broth over the baked chicken thighs. Bring to a boil and then reduce to simmer for about 15 minutes. Add in half of the herbs and spices.
Once chicken is soft, remove it from the pot and put on a cutting board. Shred with two forks, then add back into the pot.
Add in the second box of chicken broth, spinach, and the rest of the herbs. Allow to simmer for another 10 minutes.
Add in the prepared couscous and continue to simmer.
Whie soup is simmering, turn the oven broiler to high.
Spread chevre over the toast points and sprinkle with dried rosemary. Broil until toasted.
Serve soup with ciabatta points on the side for dipping.