Cold Soba Noodle Salad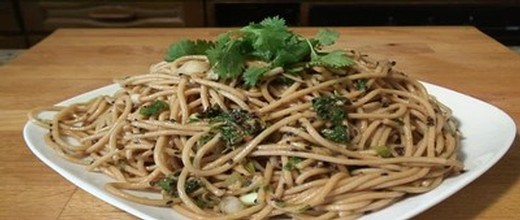 Recipe Date:
September 6, 2016
Measurements:
Imperial (US)
With a variety of salty and savory Asian flavors as well as a seaweed aroma reminiscent of seafood, these noodles should really be paired with a crisp, white wine like our Pinot Grigio or Old Vine Chardonnay.
Ingredients
6 ozs Soba Noodles
1 Sheet of Nori--or--
2 tbsps Seaweed Flakes
1 tbsp Sesame Seeds
1 tsp Rice Vinegar
1 tsp Soy Sauce
Directions
In a medium-sized pot, boil water. Do not add salt or oil to the water, as it will change the quality of the soba. Cook soba as directed on package, about 6-8 minutes.

When the noodles are soft, strain and rinse in cold water, washing the noodles well. Let sit in the refrigerator to chill, about 20-25 minutes.

In the meantime, if you have a nori sheet, chop it finely or cut it into small, thin strips .

Mix soba with the seaweed, sesame seeds, rice vinegar, and soy sauce. Serve chilled.