Chicken Fajita Pasta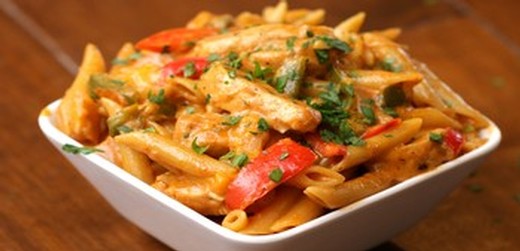 Recipe Date:
September 6, 2016
Measurements:
Imperial (US)
Even though this meal contains chicken as its main source of protein, it shouldn't necessarily be paired with a white wine. In this instance, you would want to match the heavy flavors of spice and vegetables in the sauce with a wine of equal weight and spiciness. Here, the best wine to cut through the creaminess and accentuate the fresh, spice flavors of the dish would be either of our Grenaches, which have a kick of that stands up to the fresh Mexican flavors of the pasta.
Ingredients
1 lb Skinless Chicken Breast, diced
8 ozs Penne Pasta (about half a box)
2 Bell Peppers (red, yellow, or orange), chopped
1 Large White Onion, chopped
1 Tomato, diced
1 Jalapeno or Serrano Pepper, diced
3 Garlic Cloves, minced
2 cups Chicken Broth
1/2 cup Heavy Cream
2 tbsps Olive Oil
1 tsp Salt
1 tsp Pepper
1 tsp Chili Powder
1 tsp Ground Cumin
1 tsp Oregano
1 tsp Paprika
1 tsp Garlic Powder
1 tsp Onion Powder
1 tsp Parsley
Directions
In a large skillet, heat half of the olive oil until hot. Coat chicken with half the fajita seasonings and brown on one side before flipping and browning the other side. Remove from skillet and keep on a separate plate.

Heat the remainder of the oil. Add in peppers, onions, tomatoes, the jalapeño or serrano pepper. Cook until the vegetables are slightly charred.

Add in minced garlic, and stir until fragrant (about one minute). Move to a separate plate.

In the skillet, mix the broth, cream, uncooked pasta, and the other half of the seasonings. Let boil, then reduce heat and let simmer on low for 15-20 minutes, or until the pasta is tender and the liquid is mostly absorbed.

Add in the chicken and vegetables, and stir over a low heat until the pasta is a uniform temperature. Serve with oaxaca cheese crumbles for extra creaminess.