Chevre and Sauteed Leek Burgers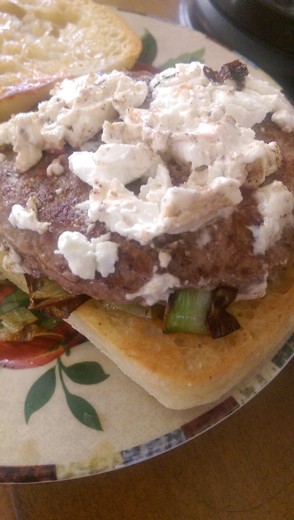 Recipe Date:
September 28, 2016
Measurements:
Imperial (US)
The most prominent flavor in these burgers is definitely the goat cheese. While the burger is juicy and meaty, and the leeks provide a beautiful flavor, the chevre is the star of the show. As a result, we recommend pairing wines that go nicely with the cheese. These wines are predominately white, even though we are enjoying red meat. For this burger in particular, we recommend our Old Vine Chardonnay or Pinot Grigio for a crisp counter to the creamy goat cheese.
Ingredients
2 Hamburger Patties
1/2 Leek, cut into thin strips
1/8 lb Chevre, crumbled
1 tbsp Butter
2 Buns of choice (I used ciabatta rolls)
Salt and pepper, to taste
Directions
Rub burger patties with salt and pepper. Leave uncovered as they come to room temperature.
In a skillet, melt butter. Add leeks and sautee until they are soft and begin to brown.
In a separate skillet, grill buns face down until they are lightly browned.
Add the leeks to the buns on a separate plate. Begin to cook burgers in the residual butter for added flavor.
Cook burgers to almost the desired doneness, then add chevre. Reduce heat to low and cover until cheese begins to melt.
Plate burgers on the bun and enjoy!