Bacon-Roasted Brussels Sprouts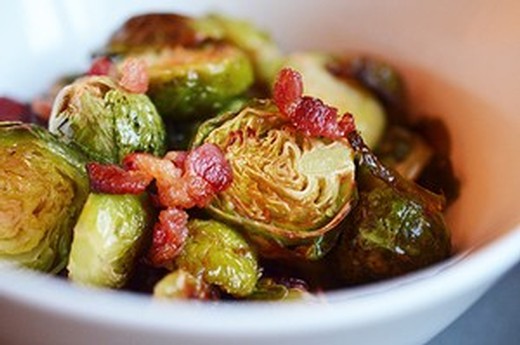 Recipe Date:
September 6, 2016
Measurements:
Imperial (US)
If this dish is served as an accompaniment to a protein, like a steak or roasted chicken, then the protein should take precedent when deciding which wine should be served. However, these brussels sprouts can be a dish on their own. Roasting these vegetables gives them a strong, almost nutty flavor that can be complemented by a crisp, white wine. A balance between sweetness and acidity can really round out the savory and salty flavors in the dish. Try either of our Chardonnays or Rosés to really bring this dish to life.
Ingredients
20 Brussels Sprouts, cut in half
6 Strips of Bacon
2 tbsps Olive Oil
Salt and Pepper, to taste
Feta Cheese, optional
Directions
Cut bacon into small chunks using scissors. Cook on medium heat until lightly cooked and some fat is rendered, about one to two minutes.

In a large boil, coat the brussel sprouts in olive oil, salt, and pepper. Line a baking sheet with parchment paper and spread the brussel sprouts over it.

Drizzle the bacon and fat over the sprouts as evenly as possible.

Bake for 30-40 minutes at 400 degrees, shaking the pan occasionally to ensure even browning. These can overcook quickly, so make sure they aren't too brown when you do this.
Serve with sprinkled feta cheese, if desired.